Create Enchanting Garden
Room Designs with Tile!
Garden room designs or "outdoor rooms," as they are commonly called, have surged in popularity in recent years as more and more homeowners find ways to squeeze extra living space from their property.  Rather than trying to live in a construction zone and deal with the hassles of interior remodeling, many owners simply opt to expand their living area to the out-of-doors.
Depending upon available space and budget, an outdoor room can be anything from a small deck to an expansive patio or terrace with outdoor kitchen, fireplace and swim- ming pool.    However, regardless of spatial or budgetary considerations, there is a multitude of tile options for every project -- large or small!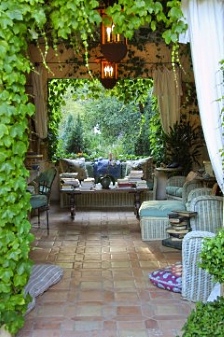 Right: Enchanting French country garden room
with tile floor by Grace Design Associates
The versatility of outdoor tile makes it ideal for decks, patios and porches, as well as fireplaces, fountains and pools.  Its durability as a surface covering has endured the test of time.  Its beauty is timeless.
Pictured below, a vibrantly colored tile pool takes center stage in a backyard garden design by Grace Design Associates, an award-winning firm based in Santa Barbara, California.  Note the comfortable seating area just beyond the pool and fountain.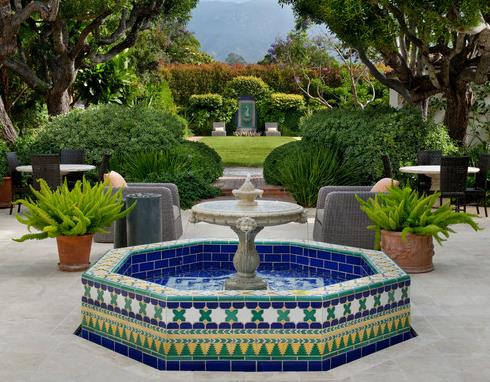 Garden Room Design Elements

Patio Floors
Kismet Tiles grace a backyard patio design in Ojai, California (below left).  The modern Moroccan-made cement tiles feature bold patterns and vivid colors.  Hexagon 8, pic- tured here in green, is interspersed with bright orange accents.

Below right, a classically-inspired garden room design by Jauregui Architects features dramatic arches and a vaulted ceiling.    Natural stone flooring laid in a large basket weave pattern complements the grand architectural elements of this stunning outdoor room near Dallas, Texas.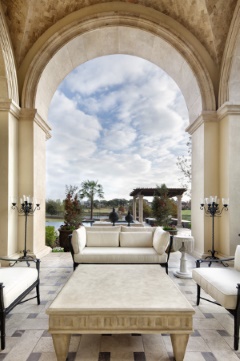 A profusion of squares within an octagon make a spectacular focal point in Menlo Park, California.    The decorative patio floor mosaic by Helen Kirby of Kirby Designs features a series of octagonal bands filled with square tiles of varying size and hues of blue.  White patterned tiles radiate from the center while copper-colored, kite shape quad-
rilaterals anchor the corners.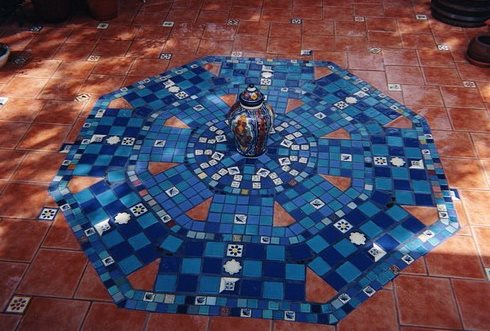 From trendy to traditional, Avente offers a wide range of looks in handcrafted cement tiles.    "Espiral,"  a vibrant contemporary design (below left) from its Artist Series, features cool blue hues with round red accents.  The tiles are 10x10 inches in size.
From its Traditional Series, Avente's "Alcala" pattern lends Old World elegance to a present-day garden room design (below right).  The 8 inches square tiles feature timeless motifs in a stunning array of colors.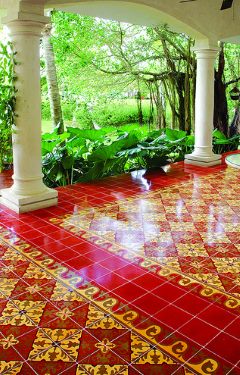 Patio Steps & Stairs
COMING SOON!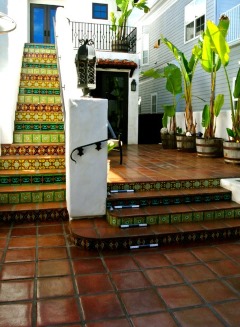 Please check back often or subscribe to our RSS feed, as we frequently add new outdoor room designs to our site.

YOU MAY ALSO LIKE:

Spice Up Your Backyard
Garden Design with Tile!

Back to Floor Tile Design Ideas
Back to Standout Tile Designs Home Page


Didn't find what you were looking for?
Use this search feature to find it.
LIKE THIS PAGE?

Copyright © 2014-2019 standout-tile-designs.com
All Rights Reserved.
STANDOUT TILE DESIGNS
Minneapolis, Minnesota USA