Spice Up Your Backyard
Garden Design with Tile!
WARNING:  The backyard garden design ideas featured here will tickle your visual palette with a plethora of possibilities.  Employing outdoor tile in a variety of styles, patterns and colors, they offer a diverse sampling of personal tastes -- from semi to super spicy . . . . . or simply sublime to spectacular!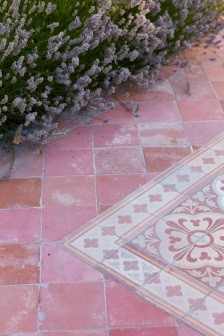 Right: Reclaimed cement tiles from L' Antiquario;
Jeffrey Gordon Smith Landscape Architecture

A 1920s Spanish Revival home in Los Angeles gets a striking new courtyard as part of a complete renovation by Masterworks Construction Services.  Vibrant fountain tiles echo the patio floor border design.  A tile mural on the rear wall adds to its festive look.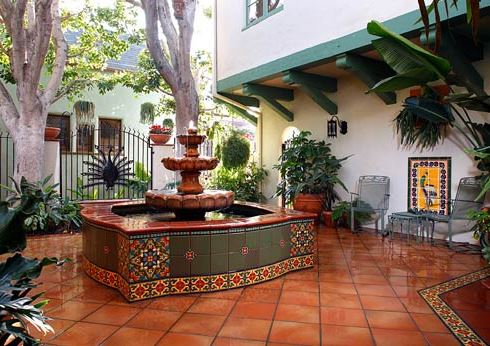 A Gathering of Backyard Garden Designs

"Secret" Sanctuaries
A woodland oasis on the outskirts of Philadelpha provides a secluded sanctuary for relaxation and reflection.  The lush design by Wallace Landscape Associates is paved with cut Pennsylvania bluestone tiles with brick edging.  A low stone wall encircles approximately half the paved area.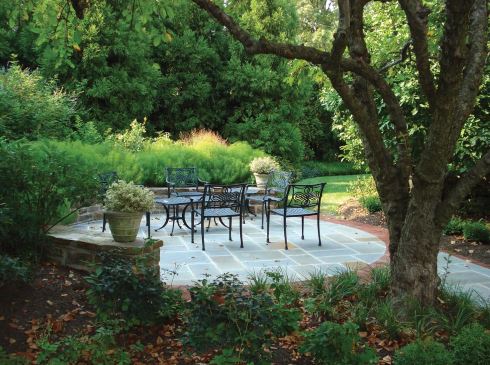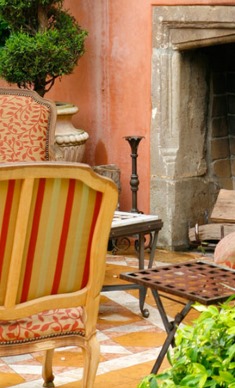 Though more formal in appearance, a backyard garden design (below) in Los Angeles also incor- porates a quiet area in which to relax and reflect.  Nestled  in  a grove of trees and anchored by a striking "Old World" fireplace, the Italianate gar- den  by  EPT Design features clipped hedges of boxwood and privet,  as well as tall rosebushes    for added charm and intimacy.  A close-up (right) reveals the classic beauty of travertine and mar- ble flooring employed in this design.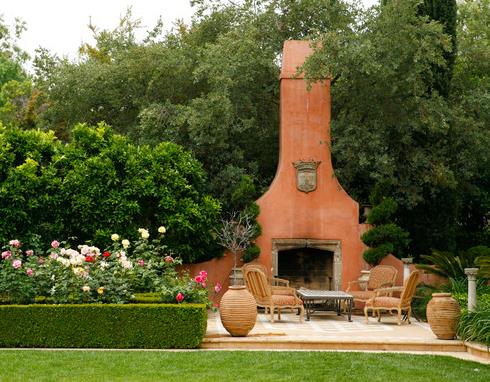 Hillside Havens
A sprawling 1920s Spanish Revival home by architect Edgar Ullrich hugs a hillside in La Jolla, California.  Beautiful clay tiles in hues of red, orange and golden yellow stretch across the sunken patio floor.  Note the stone walls and colorful flower beds stepping up the hillside.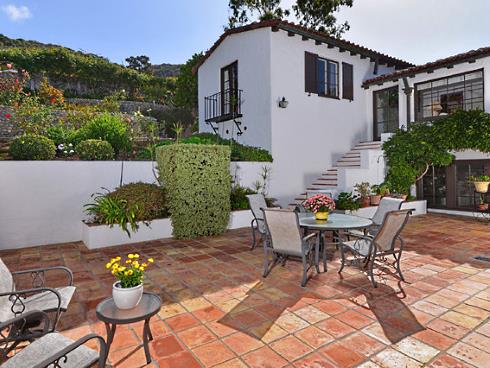 Photo via Tim Nelson/Willis Allen Real Estate

Step-down terracing leads to an intimate conversation area with fire pit along the Lake Michigan shoreline.  David J. Frank Landscape Contractors, based in Milwaukee, Wisconsin, employed cut stone tiles to pave both top and bottom terraces.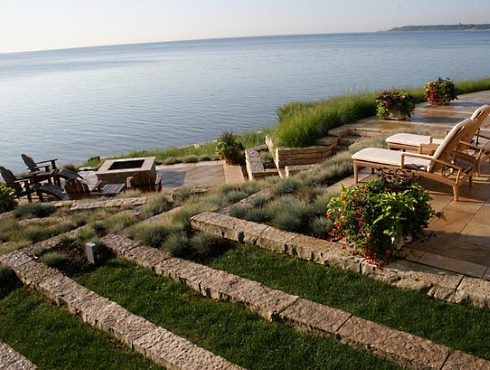 Moroccan Style Marvels
The magic of Morocco comes to a courtyard in Carmel, California, by Carlson Design Group and Arterra Landscape Architects.  Moroccan motifs grace the fountain pool tiles to create a vibrant focal point in this backyard patio design.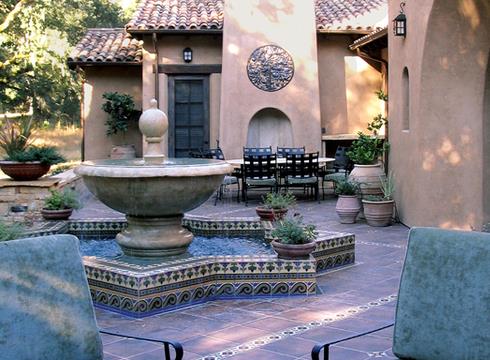 Photo via Arterra LLP

Moroccan-inspired magnificence defines a garden design in Malibu.  From ARTO Tile's Monrovia Collection,  multiple patterns and colors come together in an intoxicating visual feast of ceramic tile art!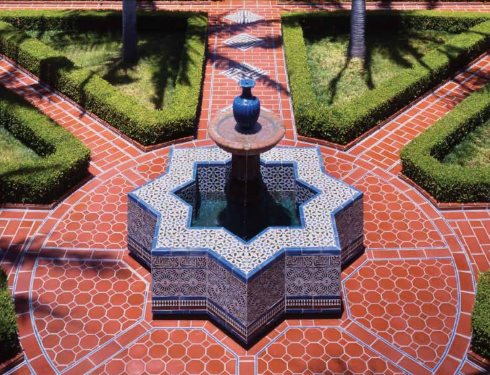 Please check back often or subscribe to our RSS feed, as we frequently add new backyard garden design ideas with tile to our site.

YOU MAY ALSO LIKE:

Create Enchanting Garden
Room Designs with Tile!

Back to Standout Tile Designs Home Page


Didn't find what you were looking for?
Use this search feature to find it.
LIKE THIS PAGE?

Copyright © 2014-2019 standout-tile-designs.com
All Rights Reserved.
STANDOUT TILE DESIGNS
Minneapolis, Minnesota USA