Kitchen Backsplash Tile Designs...

Savory Splashes of Color!


Kitchen backsplash tile designs burst with color in a visually intoxicating array of possibilities.  Smooth and textured tile surfaces in a profusion of patterns.  Historic motifs and modern mosaics.  Glazed ceramic and polished glass.

Right: Backsplash design from the "Glass3 Mosaic Collection" by Sicis, shown here in blue and white

Gems from the past, Art Nouveau tiles by Zsolnay -- an iconic Hungarian manufacturer -- are awash with color.    The design pictured below adorns a basin backsplash in Budapest's "Schiffer Villa" (ca. 1910-1912) by architect József Vágó.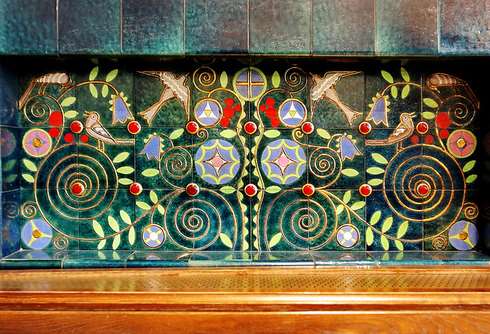 Kitchen Backsplash Tile Designs . . .

Traditional Styling
A kitchen backsplash tile design from Pratt & Larson features a raised relief pear tree with stylized symmetry.  Deep dimensional border tiles frame the pleasing composition.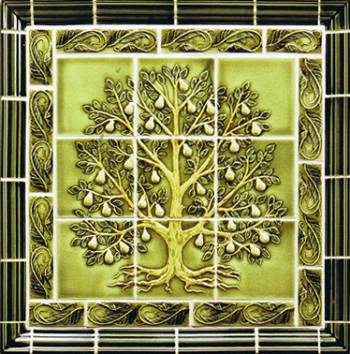 A ceramic tile pattern from Trikeenan Tileworks, "Victorian Garden" features a field of rhomboid tiles in Deep Forest Green.   A listello or decorative band of contrasting accent and trim tiles extends across the upper part of the backsplash.  (Listello pictured with Orange Umber triangles and Gold Spot Brown Classic Highland Crown)

Colorful tiles from Mexico impart a festive look to the kitchen backsplash below.  Imported by Mexican Tile Designs, a family-owned business in Durango, Colorado.

Backsplash image above via Southern Living
(Photo Credits: Jean Allsopp & Cari South)



Transitional Twist
Italian tile maker Marca Corona brings a modern twist to traditional majolica with its Petite Maison collection.   The glazed porcelain stoneware tiles feature a mother-of-pearl finish, shown here in Avorio with Olive accents.  A tile countertop and basin backsplash panel of tesserae provide contrasts in color and finish.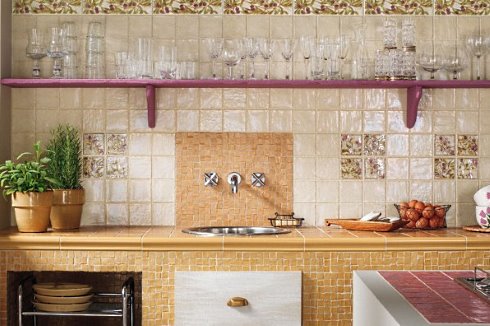 Contemporary Creations
Kaliedoscopic colors infuse a contemporary kitchen tile backsplash.  Long, narrow glass tiles are laid end to end in a horizontal pattern, creating a perception of lengthened space.

Photo above via The Edge Remodeling, Mesa, Arizona

One of many striking mosaic tile patterns by designer Erin Adams for New Ravenna, "Kente" is a richly colored composition made from hand cut glass.  The eye catching mosaic is shown here in Athos, Juhl, Blair, Rhode, Rolly and Obsidian.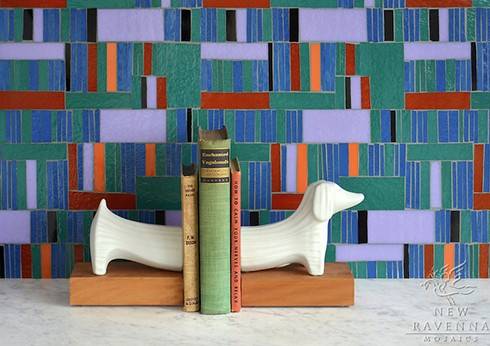 Whimsy and color permeate a unique encaustic cement tile design by South African artist Ruan Hoffman for cle tile.  "fireworks," pictured here, is part of his postcards from myself series.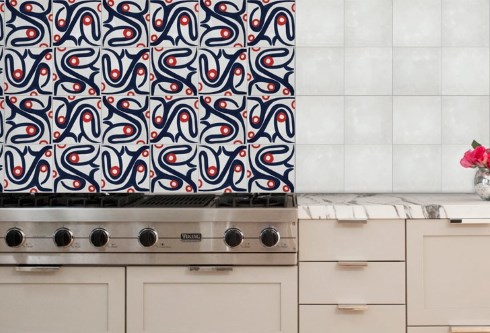 Please check back often or subscribe to our RSS feed, as we frequently add new kitchen backsplash tile designs to our site.

YOU MAY ALSO LIKE:

Kitchen Tile Backsplashes
for Cabins and Cottages!

Kitchen Tile Designs -
Culinary Delights!


Backsplash Tile Designs -
Boundless Backgrounds!

Tantalizing Tile Patterns -
A Symphony of Shapes & Styles!


Kitchen Flooring Installation
Ideas...Bold & Beautiful!

Back to Backsplash Tile Designs
Back to Standout Tile Designs Home Page


Didn't find what you were looking for?
Use this search feature to find it.
LIKE THIS PAGE?

Copyright © 2014-2019 standout-tile-designs.com
All Rights Reserved.
STANDOUT TILE DESIGNS
Minneapolis, Minnesota USA