Standout Tile Materials...
Multiple Choices!
Today's tile materials offer more design choices than ever before.   Artistry  and technology have come together to create a rapidly evolving, ever-expanding palette of possibilities!

Glass, wood, metal, concrete, stone and seashells  are  just some of the mediums employed
in present-day tile production.  Traditional tile materials like ceramic and porcelain are also being designed to mimic wood, metal  and  stone.  Combining
function and beauty,  today's material options are available in   a  kaleidoscope  of  colors  and patterns.

Striking ceramic tile pattern pictured above from
"South Sea Pearl Collection" by Artistic Tile

Tile Materials

Ceramic & Porcelain
Among the world's most ubiquitous tile materials, fired clay or ceramic has been used for millennia  to create everything from pottery to plumbing fixtures.   As a wall and floor covering, ceramic tiles come in nearly any color, pattern and tex- ture imaginable.
Tiles from Pratt & Larson lend color and contrast to a kitchen backsplash (right).  The ceramic tile design features an elongated hexagon pattern framed by a border of long,  narrow rectangles.
See More Kitchen Backsplash Tile Designs

Fired at higher temperatures, porcelain is stronger and more durable than ceramic, making it ideal for tiling floors and other areas where a harder-wearing surface
is required.  Porcelain is also more translucent than ceramic and can be used with great effectiveness on walls and countertops.
Italian tile manufacturer Fiandre replicates the look of polished stone with its "Precious Stones Collection" of porcelain tiles.  The bathroom tile design that follows captures the beauty and mystery of malachite in large 30 x 60 inch rectangular tiles.




Mother of Pearl
Mother of pearl comes from the inner layer of mollusk shells.  Strong, resilient, and iridescent, its use as a tile material is both practical and decorative.  The lustrous tiles pictured below are from Maybury Home.

See More Bathroom Tile Ideas from Maybury Home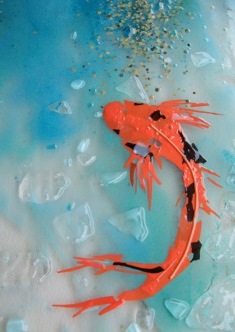 Glass
The art of making glass tiles has endured since ancient times,  resulting  in  a  vast  array  of beautiful patterns and colors.  However, break- throughs in production technologies within the past two decades have brought about an ex- ponential increase in design possibilities with this tile material.  Contributing to its popular appeal, a growing number of tile makers employ sustainable practices like using recycled glass to manufacture their products.
Glass has the capacity to capture intense color in ways that other mediums simply cannot.  The example  at  right  showcases  the  artistry  of Designer Glass Mosaics for a master bath.

Finely crafted glass tiles from Ann Sacks glow with profuse color and pattern.  "Plume," one of the mosaic tile patterns from her "Chrysalis" collection, is shown below in pearl irid, light beige and honey.

More Bathroom Tile Design Ideas

Among the most dazzling glass tiles are those made of Murano glass, named for the Venetian island where it has been produced for more than 800 years.  Pictured below in black cherry glass is "Aria" from Nella Vetrina.  Employing an age-old technique of fusing (melting) layers of Murano glass, skilled Italian artisans are able to create tiles with extraordinary depth of color!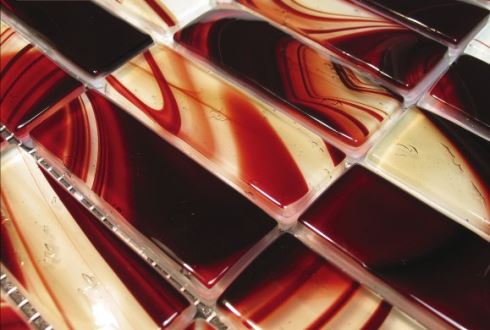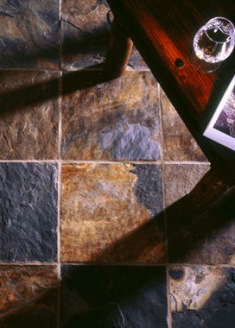 Natural Stone
The timeless elegance and lasting durability of natural stone make it an enduring tile material.  Commonly crafted from limestone, granite, slate, travertine and marble, the tiles can be cut and finished in innumerable ways to achieve a wide range of textural looks.   Available in a rainbow   of colors, natural stone tiles impart beauty and richness to any room.
Natural Stone Flooring (right): Burnt sienna slate floor tile from Original Style
See More Floor Tile Design Ideas

Wood
As with traditional wood paneling, contemporary wood tiles exude warmth and elegance.  Pictured below, left, walnut relief tiles by Urbanproduct offer a unique dune-inspired look.  The aptly named "Dune" wall tile collection features a dramatic three dimensional design. Each 8 x 8 inch tile projects from the wall nearly 2 inches.
Brazilian tile manufacturer, Mosarte, makes a strong design statement with its "Modern Art" tile collection.  "Niterol," pictured at right, below, employs water jet technology to create intricate three dimensional tile patterns evoking mid 20th century decorative motifs.    A profusion of arches, angles and half circles set inside squares provides a striking backdrop for retro-styled furnishings.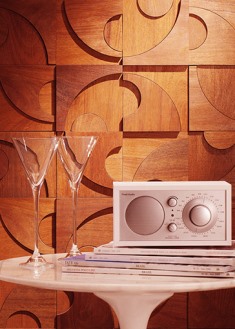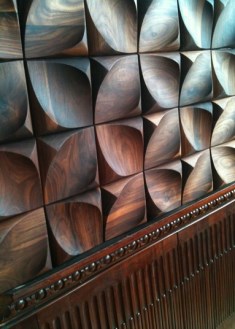 Metal
Ideal for kitchen backsplash tile designs, metallic materials offer a distinctive sheen.  Decotone Surfaces' aluminum tiles with brass finish (below) lend contemporary flair to traditional design elements.



Concrete
Due to recent advances in tile production technology, concrete  is  becoming increasingly popular as a contemporary covering for interior wall surfaces.  Highly intricate designs are now possible with this versatile building material. 
Lightweight concrete mimics metal in a riveting tile line from Agrestal Designs.  Eco-friendly, the concrete tiles are made from low carbon cement and recycled aggregates.  Note the fine detailing in the close-up at right, below.

Though a relative newcomer, Kaza Concrete is a rising star in the tile industry.  Located just outside Budapest, Hungary, the firm's innovative tile designs are taking concrete artistry to a whole new level! 
Pictured below is "Crisp," one of the unique three dimensional patterns in its Mystile™ Collection.   Small triangles cover the undulating surface of each tile to create a dynamic interplay of light and shadow.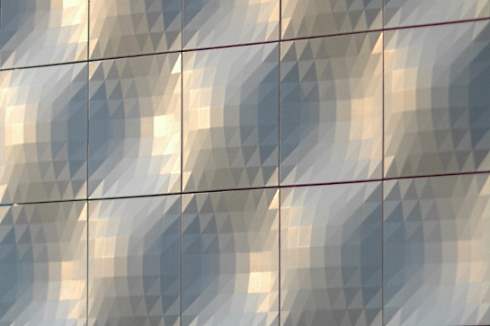 Other
Leather, cork, rubber and coconut shells are among a growing lineup of today's exciting tile materials.  Pictured below is "Aoba," a striking coco shell design from Nemo Tile.

Please check back often or subscribe to our RSS feed, as we continually feature a wide variety of tile materials on our site.

YOU MAY ALSO LIKE:
Tantalizing Tile Patterns -
A Symphony of Shapes & Styles!

Floor Tile Patterns to
Knock Your Socks Off!

Back to Tantalizing Tile Patterns
Back to Standout Tile Designs Home Page


Didn't find what you were looking for?
Use this search feature to find it.
LIKE THIS PAGE?

Copyright © 2014-2019 standout-tile-designs.com
All Rights Reserved.
STANDOUT TILE DESIGNS
Minneapolis, Minnesota USA