Looking for Tile Designs
that Truly STAND OUT?
Finely crafted tile designs -- from simple geometric patterns to complex mosaics -- continue to captivate us, as they have since ancient times.  Classic to contemporary in style,  their rich colors and textures can transform ordinary spaces into extraordinary places!
Discover imaginative ideas for tiling your bathroom,  kitchen or patio from an ever- expanding array of tile options.  Explore the vivid colors, intricate patterns and deep textures of this remarkably versatile surface covering.  Savor a visual feast of tiles and tilework from leading sources around the world.  Experience the intense passion inherent in their designs.    Gain a renewed perspective and appreciation for the endless range of exciting possibilities with tile today!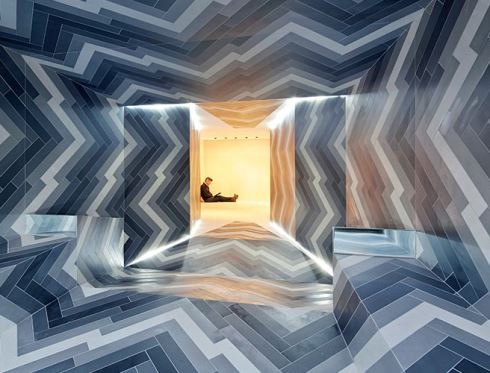 Above: Marazzi SistemN Porcelain Tile at
Capitol Designer Studio in London



Innovation & Artistry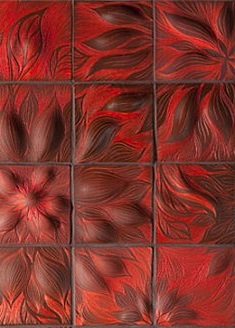 Today's tile designers are pushing the envelope
in their quest to create exciting new patterns,
textures  and  colors.   Employing both time-
honored techniques and modern technology, the
striking results are unlike anything we've seen before!

Sinuous  and  sensual  tile  designs  from  Blake Studios  feature  undulating surfaces with bold patterns inspired by nature. Bursting with color, the tiles are handmade using an age-old method from Italy known as sgraffito -- a technique in which each tile is painstakingly "scratched" or carved in relief.  Made from high-fired porcelain,  the sculpted tiles can be arranged to create a dramatic wall mural or a  stunning  blacksplash.    Pictured at right is the Dahlia pattern in black/ gray on a deep red background.

Hues of green and gold infuse a custom tile design (below) by Blake Studios for a homeowner in Hawaii.  A striking abstract landscape, it depicts Mauna Kea, a dormant volcano on Hawaii's Big Island.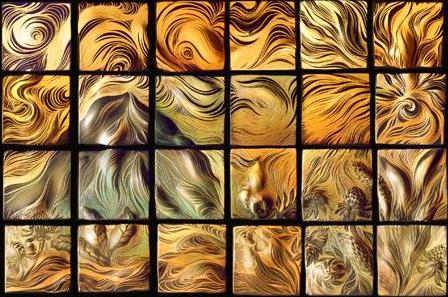 The cool contemporary design that follows is crafted from concrete by Los Angeles based artist Daniel Ogassian.  Dimensional tiles from his Optic Series feature spheres within ribbed squares.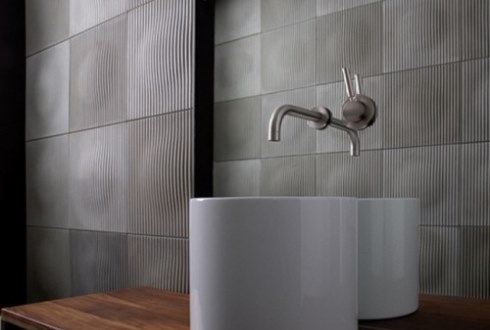 MORE Tantalizing Tile Patterns



Kitchen Cachet
Contemporary styling makes waves in the kitchen backsplash tile design below.  From Rookwood's Modern Classics Collection, deep shades of aubergene or eggplant infuse the tiles, lending contrast and texture to a sleek stainless steel hood flanked by wood and glass front cabinetry overhead.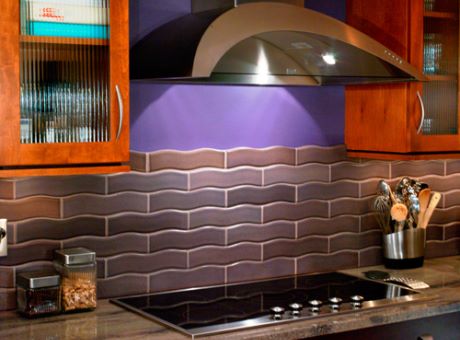 Colorful tiles from Motawi provide a more traditional look to the Arts and Crafts style kitchen backsplash that follows.  Centered horizontally between the countertop and upper cabinet shelf,  a rhythmic row of square tiles features scenic mountain vistas framed by Ponderosa pines.  Directly above and below, narrow field tiles simultane- ously complement and contrast with the larger tile designs.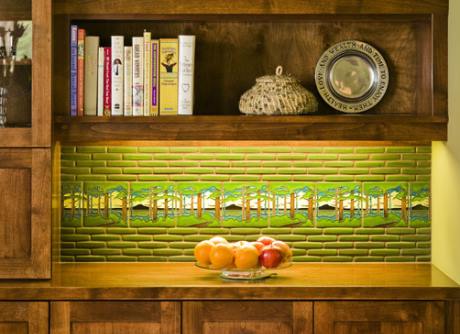 Fireplace Fever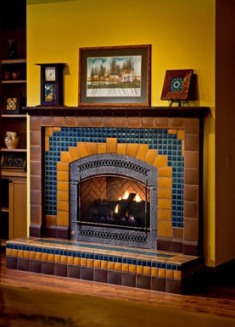 Fireplace surrounds offer innumerable oppor- tunities for creative expression with tile.  The results can be dramatic, as shown in the fireplace tile designs that follow. 
Pictured at right is another colorful composition from Motawi.    Richly contrasting tones of blue, brown and gold bask in the glow of an intimate fire.
A blossoming cherry tree in raised relief delicately frames the upper firebox opening in this striking design (below) from Pasadena Craftsman Tile.  Handmade by owner/artisan Cha-Rie Tang, each tile receives a special glaze to bring out its many nuances in color, pattern and texture.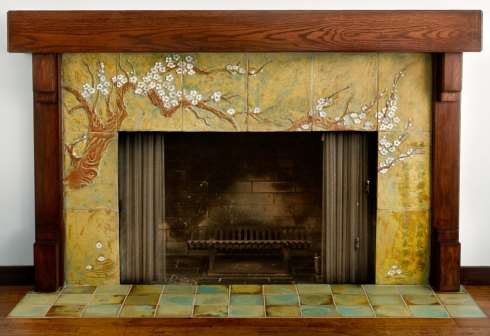 Bathroom Bliss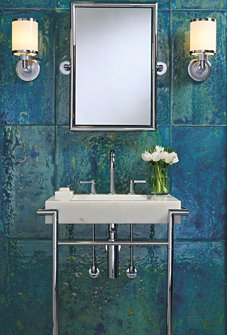 Tile designs for baths combine form and function to create a vast range of exciting looks.  The striking examples that follow offer a peek at the possibil- ities.
Ann Sacks' nature-inspired Aura glass collection features tiles with incredible depth of color.  Dye is sealed within the glass during the fusing process to ensure a fade-free surface that will remain vibrant for many years to come.  Pictured at right is her aptly named "Deep Blue Sea" tile design.

Shades of blue and gold glimmer in a candlelit bath from Sicis (below).  Modern masters of mosaics, the Italian firm's artisans produce tilework rivaling the richness of the Renaissance.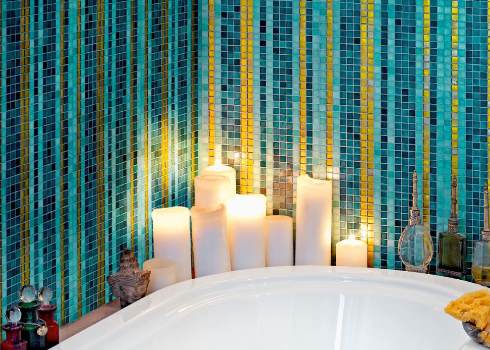 Bathroom tile patterns featuring long rectangular tiles, stacked horizontally, lend a sleek contemporary flair to bath surfaces.    The design that follows is from Spanish tile-maker, Dune.  A background of black satin matte finish tiles is accented with gold embossed glass tiles to create a dramatic study in contrasts.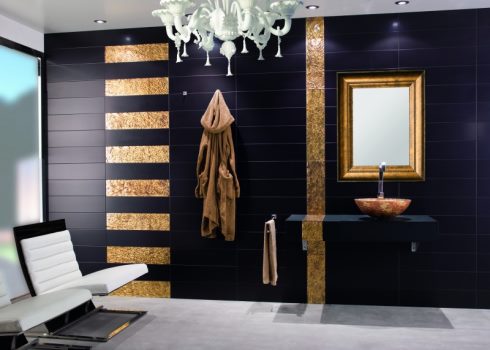 Above: Dune's Loft Negro Matt Black with Gold Aurum Glass


Footworthy Floors

Tile floor designs offer striking visual appeal and long term durability.  They can be used to complement the wall decor or finish of virtually any room. 
The exuberant floor tile patterns pictured below light up the rooms they anchor.  Below, left, a formal entrance hall with an elegant curved stairway is enhanced by a classic 18th century floor design from Intermarble Fabrication. The design, known as carreaux d'octagones, features a diamond and octagon motif, in which small black squares are laid diagonally at the intersections of lighter colored octagonal stones.
Pictured below, right, is a tiled sunroom floor by Gooseneck Designs.  Its geometric pattern and vibrant color scheme take their cues from the room's large Gothic style stained glass window.

MORE Striking Floor Tile Patterns


Antique Allure
The beauty of antique tiles is brilliantly portrayed in a design (ca. 1900) by Hungarian manufacturer Zsolnay.  A singular example of the firm's vast and extraordinary body of work, it depicts underwater flora and fauna in a rich palette of color.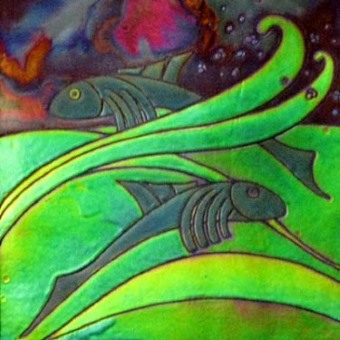 Photo above via Zsolnay Tile Museum
and Store, Newport, Rhode Island


Tile Design Trends

The diverse range of tile patterns, textures and material options continues to grow as a result of advances in manufacturing technologies and finishing techniques.  In ad- dition to traditional materials such as ceramic and stone, beautifully crafted tiles are available in everything from glass, wood, and metal . . . . . to concrete, cork, and coconut shells!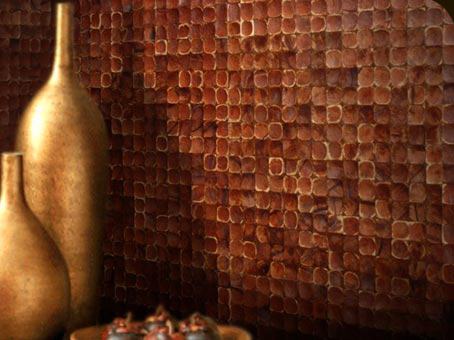 Above: Coconut Shell Tiles from Kirei's "Java Collection"

Copyright © 2014-2019 standout-tile-designs.com
All Rights Reserved.
STANDOUT TILE DESIGNS
Minneapolis, Minnesota USA