Small Bathroom Designs...
Truly Tile-riffic!
Small bathroom designs clad in tile take center stage with striking displays of contrast and color.  From subway tiles to handcrafted mosaics, the designs encompass a variety of materials including ceramic, porcelain and stone.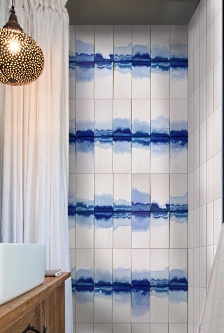 Pictured at Right:  Porcelain tiles from the Watermark Collection by clé, shown here in "Indigo"

A farmhouse style bathroom (below) by Ascot Living features white subway tiles and millwork to provide a perfect backdrop for period wall fixtures.  Braided rugs enliven the space with exuberant splashes of color.

Inspiring Small Bathroom Designs . . . . .

Traditional & Contemporary
The tile designs that follow are as varied and diverse as the creative minds behind them.  Whether traditional or contemporary in style, they make a distinctive design statement.
A small bath design (left, below) in a renovated townhouse on Manhattan's West Side is lined, floor-to-ceiling, with white subway tiles.  Contrasting black grout gives it a graphic punch.  More...
Below right, a loft in Montreal features a contemporary bath design by Laura Garner Interior Designers & Decorators.  Square black tiles pop with contrasting white grout.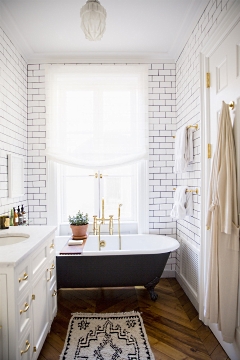 Photo Credit: Brittany Ambridge                                          Photo Credit: Laura Garner

Black & White
Black and white patterned floors lend a vibrant look to the baths that follow.  "Tulum" (below left), a geometric design from the Cement Tile Shop's Pacific Contemporary Collection, is a handmade encaustic cement tile. 
From New Ravenna's Silk Road Collection by Sara Baldwin, "Tamara" (below right) is a natural stone waterjet mosaic, pictured here in honed Nero Marquina and polished Thassos marble.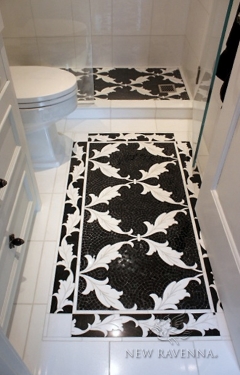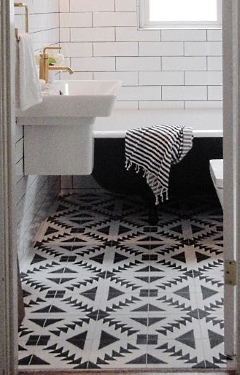 Photo Credit: Cement Tile Shop                                           Photo Credit: Beth Fults

More Black & White Floor Tile Design Ideas

Bold & Sassy
Bold patterns and colors impart drama to the small bath designs pictured below.  From herringbones to jewel tones, they make a distinct impression!
Classic subway tiles from Clay Squared To Infinity provide a dramatic counterpoint to richly painted walls (left, below).  1x2 inch tiles, shown here in "Marshmallow," are laid in a herringbone pattern over the floor.
Italian tilemaker Vietri Scotto Ceramics makes a big splash in a small bath (right, below).  Blue and white striped tiles are arranged in an alternating pattern of vertical and horizontal to line the tub and shower surround.

          Photo Credit: Rolf Hagberg                                       Photo Credit: Ceramica Vietri Scotto

Tucked beneath the sloping roof of an upper story, a small bathroom design packs a lot of punch (below left & right).  Made a Mano tiles line the floor and shower in a herringbone pattern bursting with color.  From their Cristalli Collection, the tiles are made of smooth lavastone and terracotto.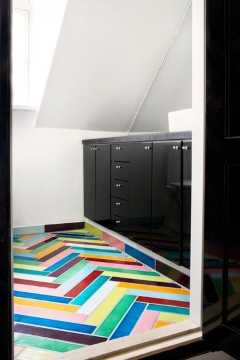 Photo Credit: Made a Mano                                             Photo Credit: Made a Mano

Calm & Classy
A compact contemporary bath by Toronto Interior Design Group features large Italian tiles from Robert Cavalli's Agata Collection.  Wooden shelves add warmth to the soothing spa-like effect.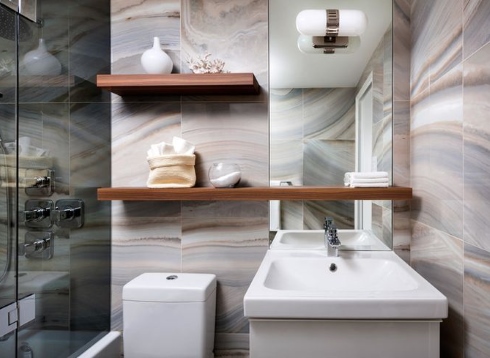 Photo Credit: Toronto Interior Design Group

Please check back often or subscribe to our RSS feed, as we frequently add small bathroom designs to our site.

YOU MAY ALSO LIKE:
MORE Small Bathroom Designs -
Big Tile Style!


Bathroom Tiles Designs -
Distinctive & Dramatic!

Shower Tile Designs -
Make a BIG Splash!

Floor Tile Design Ideas
to Lift Your Soles!


Floor Tile Patterns to
Knock Your Socks Off!

Back to Bathroom Tile Design Ideas
Back to Standout Tile Designs Home Page


Didn't find what you were looking for?
Use this search feature to find it.
LIKE THIS PAGE?

Copyright © 2014-2019 standout-tile-designs.com
All Rights Reserved.
STANDOUT TILE DESIGNS
Minneapolis, Minnesota USA