Standout Reclaimed Wood Tile
Designs...Vastly Versatile!

When people think of tile they are often limited in their imaginations for its uses to the areas they are accustomed to seeing the material. Tile is usually relegated to either the floor or the shower and its creative uses are generally limited by the material's long standing traditions of where its been used. In the last decade, the tile industry has gone through a renaissance and has been finding new ways to use different materials in all kinds of great new applications.   One of the leaders in innovation is Everitt & Schilling Tile -- a company that specializes in upcycled and reclaimed wood tile. Their system of using real barnwood on a patented backing system has been a unique addition to the tile industry. We wanted to take a look at some of their best projects and show you how this material can transform a space quickly into something special. Their product is helping to lead the way in changing the tile industry into a surfaces industry -- where walls, ceilings, doors and other areas are now new places where great standout design can take place.

Reclaimed Wood Wall Tile from Everitt & Schilling

Reclaimed Wood Tile Installations

Steak 44 - Scottsdale
Reclaimed Wood Tile Bar at Steak 44 Restaurant in Scottsdale, AZ

Tile design is multi-faceted. It takes thoughtfulness and time to select the right mix of materials that together, create a feeling and beauty in a space that make it inviting and a place to linger. Steak 44 in Scottsdale, Arizona is just one of those places. This over the top steak house was designed with the luxury of the meal in mind. A perfect combination of brick, hexagonal and subway tiles along with the signature feature of Everitt & Schilling's Boardwalk Gunstock Reclaimed Wood Tile make this a place that exudes the idea of quality. The reclaimed wood tile is a signature of the restaurant and creates a highly designed detail in many of the spaces in the restaurant. It sets the tone from the moment you walk in and carries that theme throughout. The great combination of standout tile designs in this space make it easy to see how this reinvention of the tile industry is a great step forward in helping surfaces work together in a concert of excellence.

The Avenue Hotel
Reclaimed Wood Tile behind Avenue Hotel Reception Desk

Another fantastic tile design comes from the Avenue Hotel in Delaware. This beautiful design of wood look tile on the floor and Everitt & Schilling's reclaimed wood wall tile make this another standout tile design. Utilizing a custom blend of reclaimed wood in the boardwalk pattern from E&S, the design team put together a very inviting and beautiful space where wood is the star of the show. The space is inviting and begs the guest to linger a while and enjoy the luxury of the lobby. This beautiful design uses nautical themed colors and accents to showcase its style and allows the wood tile on the floor as well as the reclaimed wood wall accent to shine.

The University of Minnesota
Upcycled Wood Tile at University of Minnesota Study Lounge

This stunning tile design is an incredible combination of up-cycled wood tile from E&S and bold colors. The neutral floor tile, bold carpet tile, furniture and the reclaimed wood wall tile all come together to create a dynamic and exceptional design. This amazing tile on the wall is a combination of 7 species of wood that has been rescued from door and cabinet manufacturers who have to typically waste 30-50% of their material to create their product. Everitt & Schilling grabs this material before it goes to waste and repurposes it in their Parkwood Natural Tile. The result is a beautiful wall cladding that becomes the signature of the design.

C3 Real Estate Company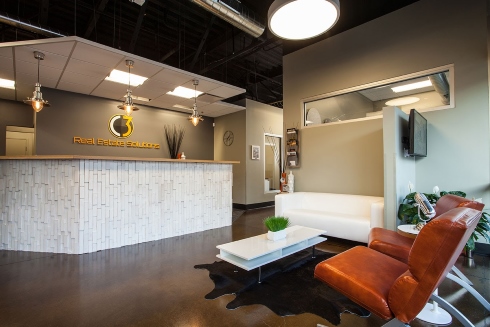 Recycled Barn Wood Tile Office Reception Desk

Here's another stunning design with a modern flair. This high end real estate company utilized the same up-cycled Parkwood wall tile material from E&S but in a white washed finish to set off the polished concrete floor and soften the reception area of their flagship office. Set vertically, this tile takes on the impression of aspen bark and makes the space soften to the design. This is a great example of how the trends in tile design have changed over the years. Whereas in the past, a typical designer might have tried to find a tile to cover the floor to make a statement, this design team liked the cleanliness of the the concrete floor in contrast to the textures of the wall tile.

The Yin and Yang of the Vynale Airbnb
Upcycled Wood Tile Bedroom Feature Wall at Vynale Airbnb

This beautiful design in Colorado is an incredible use of wall tile. The design team for an Airbnb called Vynale in Fort Collins, Colorado wanted to playfully work with dark and light tones and they turned to Everitt & Schilling for a solution. Their Plateaux series tile along with their Ember series reclaimed wood tile gave this Airbnb its own amazing style. The Ember Series by E&S is a replication of the shousugiban technique from Japan. Its bold black color is rich and spectacular. The design team wanted this boldness to play against the softness of their Plateaux Series, a recycled Baltic Birch wood tile. By using the chevron pattern in both series, they were able to play off one another in the design and give the spaces a beautiful look.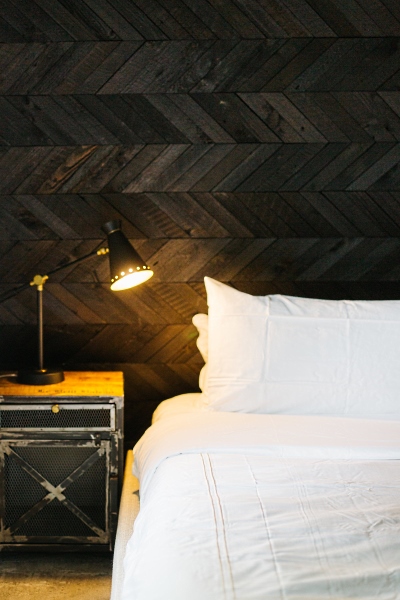 Shou Shugi Bahn Wood Tile Custom Headboard at Vynale Airbnb

See More Shou Shugi Bahn Wood Tile from E&S

As you can see, the sky is the limit on creativity in tile design. This expansion of surfaces that tile can now be used on give any design team an entirely new playground of opportunity for creating amazing spaces.  Companies like E&S are leading the way, showcasing how innovative thinking and beautiful materials are making everyday spaces better for everyone.

Please check back often or subscribe to our RSS feed, as we frequently add wood tile designs to our site.

Back to Standout Tile Materials
Back to Standout Tile Designs Home Page


Didn't find what you were looking for?
Use this search feature to find it.
LIKE THIS PAGE?

Copyright © 2014-2019 standout-tile-designs.com
All Rights Reserved.
STANDOUT TILE DESIGNS
Minneapolis, Minnesota USA