Shower Tile Designs...
Make a Big Splash!
The shower tile designs featured here are awash with color, pattern and texture.  Rich, though often subtle variations in hue provide extraordinary depth.  Whether traditional or contemporary in style, these eye catching compositions make a big splash!

Pictured at Right: "Minnows" artisan tile design by David Regan at Living Walls Tile, Missoula, MT
From Old World Grandeur to Traditional Twist . . . . .

Radiant hues of green and gold reverberate in a tile shower design (below left) by David Ellison for RJH Tile and Stone.  Tiny square mosaic tiles line the shower interior, accessed by an elegant arched opening with flanking pilasters.    The  classically-inspired surround features insets of stylized leaves and flowers.
Below right, a shower design by Alissa Madden features "Cary," a handmade mosaic from Ann Sacks' Beau Monde collection by Sara Baldwin.  The tiles pictured here consist of Honey Onyx, Rosa Verona and Verde Luna.  (Image via New Ravenna Mosaics)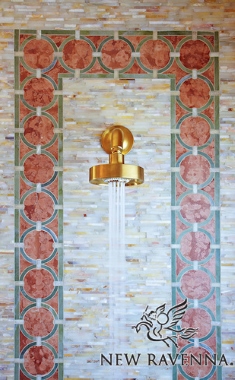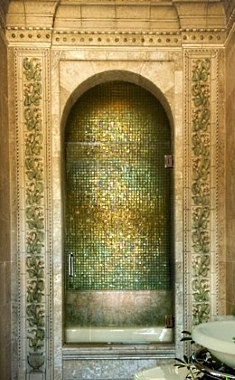 . . . to Modern-Day Greenscape
An abstract grass-like pattern of green and gold permeates a contemporary design from FAP Ceramiche.  Shown here in its "Trend Erba" colorway, the Italian tile design and manufacturer's Rubacuori collection features large 25 x 45 cm. (approx. 9 x 17 in.) ceramic tiles.




Shapely Shower Tile Designs
Scores of Squares & Scales
Tumbled 8 x 8 inch giallo limestone tiles from Ann Sacks exude traditional warmth and elegance (below left).  Golden amber and cream tones are infused with rose, brown and ochre veining.  Wall niches add depth and architectural interest.
Below right, richly glazed ceramic tiles scale a shower wall in a design by il monile studio for clé.  The byzantina collection features a host of classic tile forms, such as the striking scallop pattern shown here.  In addition, each shape comes in a variety of sizes and colorful glazes.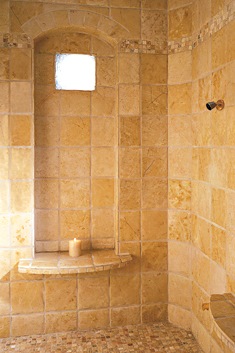 Bands of Green & Blue . . . and Vertical Stripes, Too
Ceramic tiles from Cerasarda's Pitrizza series make a splash in this contemporary bath.  A playful juxtaposition of vertical and horizontal lines, the design employs square and rectangular shapes of varying size and contrasting color.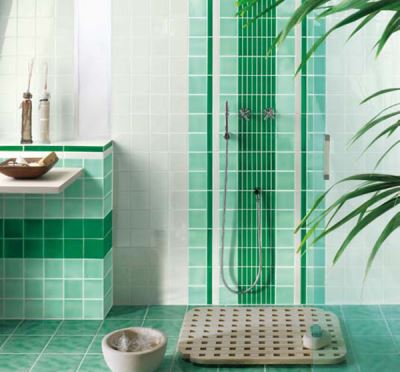 Wall tiles above in Acqua Marina, Verde Smeraldo,
Bianco Playa and Mosaico brick Verde Smeraldo

A two tier band of swirling waves punctuates a mosaic shower tile design  (below, left).  Inspired by the works of Japanese artist Katsushika Hokusai (1760-1849), the "Oriental Wave" tile from Living Walls, shown here in deep blue, is just under 6 inches square.  Below, right, soothing shades of blue infuse a mosaic tile pattern from Artaic.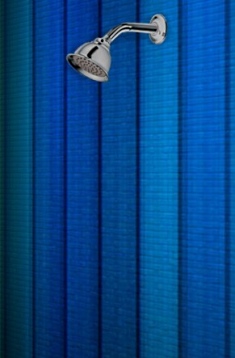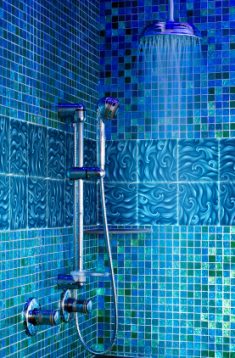 Cascading Pistils & Petals
Exuberant floral blooms fall from the ceiling in another striking shower tile design by FAP Ceramiche (right and below).  From its Cielo collection, the vibrant ceramic tile pattern and vertical alignment lend a distinctive contem- porary flair to a time-honored theme.

Please check back often or subscribe to our RSS feed, as we frequently add new bathroom tile shower designs to our site.

YOU MAY ALSO LIKE:

Small Bathroom Design -
Big Tile Style!


Small Bathroom Designs -
Truly Tile-riffic!

Bathroom Tile Design Ideas -
Classic to Contemporary!


Bathroom Tile Designs -
Distinctive & Dramatic!


Tantalizing Tile Patterns -
A Symphony of Shapes & Styles!

Back to Bathroom Tile Design Ideas
Back to Standout Tile Designs Home Page


Didn't find what you were looking for?
Use this search feature to find it.
LIKE THIS PAGE?

Copyright © 2014-2019 standout-tile-designs.com
All Rights Reserved.
STANDOUT TILE DESIGNS
Minneapolis, Minnesota USA