Bathroom Tile Designs...
Distinctive & Dramatic!
The bathroom tile designs featured here use contrasting colors, patterns and textures to achieve dramatic results.  Richly moulded ceramics exude Old World elegance . . . while undulating waves of glass impart contemporary cachet!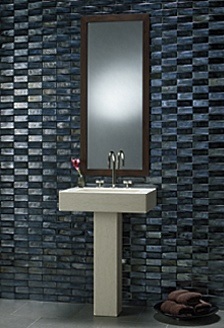 Right: Profile handcrafted glass tile with dramatic metallic finish from Ann Sacks
Colossal Contrasts in Color
Sharply contrasting colors, deep mouldings and high relief patterning lend timeless elegance to a tile design from Encore Ceramics (below).  The "Vecchio Collection" evokes classic motifs from the legendary hills -- and homes -- of Tuscany.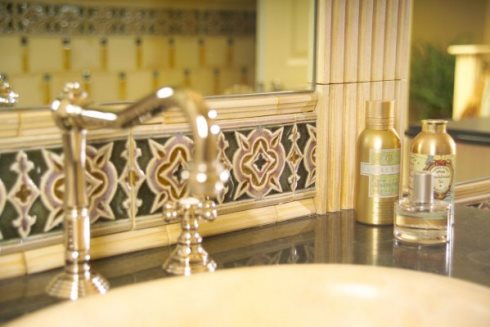 More Classic Bathroom Tile Ideas

Pictured below is a shower tile design from Italian manufacturer, Vetrocolor. The sleek and stylish glass tiles feature a lush climbing vine pattern on a dark background.  Radiant in color, the organic forms have an almost iridescent quality.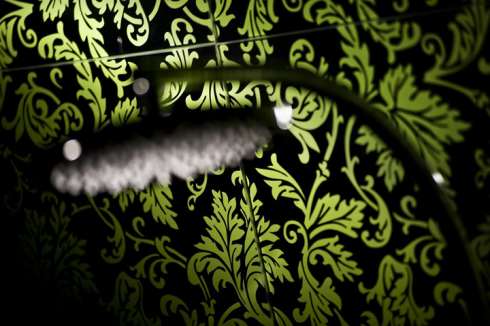 Shimmering Shades of Green...
and Blue, Too
Among the leading mosaic tile producers in North America, New Ravenna, based in Exmore, Virginia, creates intricate patterns with vibrant hues and lustrous finishes that are nothing short of extraordinary.  Pictured below,  left,  is "Margot,"  a jewel glass waterjet mosaic shown in Emerald.  "Climbing Vines," another of New Ravenna's jewel glass waterjet mosaic tile patterns (below right), is shown in Aquamarine leaves and Quartz vines.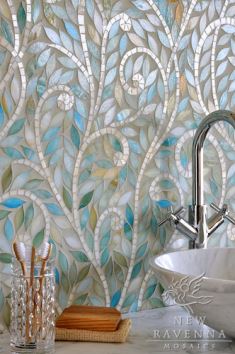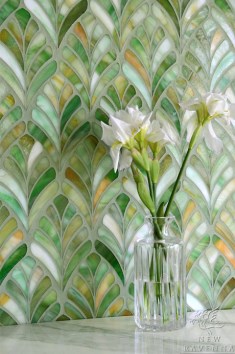 A Simple Matter of Black & White...
and a few shades of gray
The bathroom tile designs that follow offer a glimpse into the limitless looks that can be created with black and white tiles, alone  (well, almost alone...2 out of 3 in this case).  Pictured below, left, is a design by Sara Baldwin for New Ravenna Mosaics.  Crafted  from  stone,  employing  waterjet  technology,  "Tamara"  features  a  bold decorative pattern with stylized oak leaves.  Accentuating the contrast in colors are contrasting finishes -- honed, or satin (black), and polished (white).
Field tiles (3 x 6 inches) of classic Cararra marble provide an elegant backdrop for a contemporary bathroom sink and mirror surround from Artistic Tile (below right). Their "East Hampton Stone and Glass Square Mosaic Blend" features 1-1/4 x 1-1/4 inch mosaic tiles in black and white . . . and a few shades of gray.  (Note the matching mosaic accent in the floor)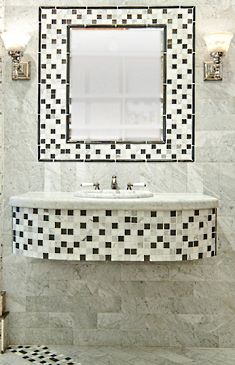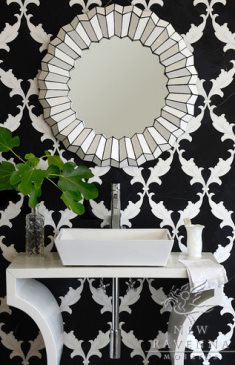 Low-relief bathroom tile patterns lend textural variety to a clever juxtaposition of black and white, classic and contemporary, in a ceramic and porcelain tile design from NovaBell's "York" series (below).  A mosaic tile floor simultaneously complements and counterbalances the large rectangular wall tiles and,  in the process,  provides yet another striking "layer" of contrast.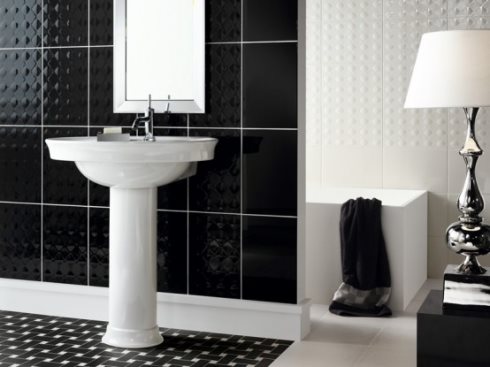 More Bathroom Tile Designs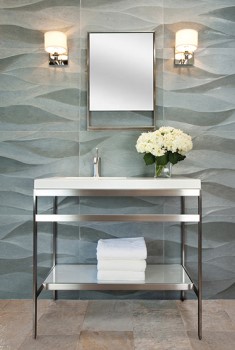 Waves of Tranquility
Undulating patterns of gently rolling waves calm the senses in the bathroom tile designs that follow.   Their soothing lines and subtle color contrasts evoke a spa-like ambiance.
Pictured at right is a design from the "Ambra" collection by Artistic Tile.     It features finely sculpted three-dimensional stone tiles with both matte and polished finishes for added depth and contrast.
The sleek and chic bath design below features porcelain stoneware tiles from the "Bernina" series by Villeroy & Boch.  Finished to resemble quartz, each tile is 15 x 60 centimeters (approx. 6 x 23 inches) in size.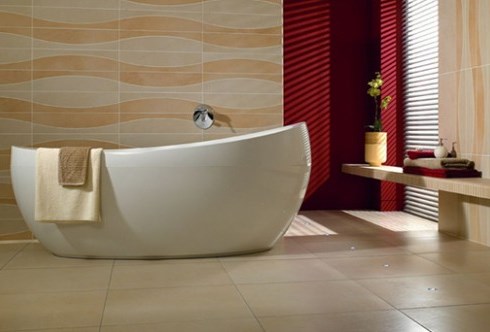 And last -- but far from least -- is "Oasis,"  a stunning jewel glass mosaic created by Sara Baldwin for New Ravenna.  Shown in Peacock Topaz and Aquamarine, the sublime wave-like forms appear to flow in a sea of serenity!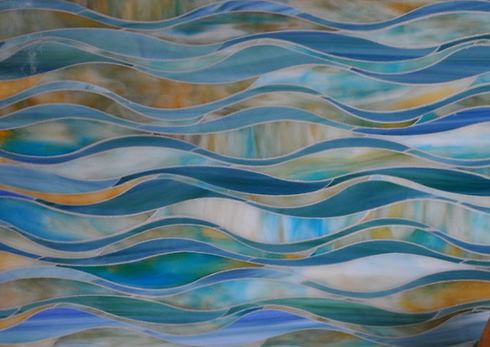 Please check back often or subscribe to our RSS feed, as we frequently add new bathroom tile designs to our site.

YOU MAY ALSO LIKE:

Small Bathroom Design -
Big Tile Style!


Small Bathroom Designs -
Truly Tile-riffic!


MORE Bathroom Tiles -
Classic to Contemporary!


Floor Tile Design Ideas
to Lift Your Soles!


Floor Tile Patterns to
Knock Your Socks Off!


Shower Tile Designs
Make a BIG Splash!

Standout Tile Materials -
Multiple Choices!


Tantalizing Tile Patterns -
A Symphony of Shapes & Styles!

Back to Bathroom Tile Design Ideas
Back to Standout Tile Materials
Back to Standout Tile Designs Home Page


Didn't find what you were looking for?
Use this search feature to find it.
LIKE THIS PAGE?

Copyright © 2014-2019 standout-tile-designs.com
All Rights Reserved.
STANDOUT TILE DESIGNS
Minneapolis, Minnesota USA