Floor Tile Patterns to
Knock Your Socks Off!
The floor tile patterns featured here are designed to amaze . . . and that, indeed, is what they do!  Scores of squares within squares.  Sensuous swirls.  Stunning star- bursts.  Elegant diamond and herringbone patterns.  Greek keys and basketweaves.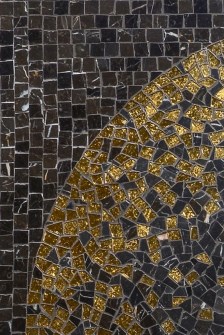 Right: "Soleil," a stone and glass hand cut mosaic from New Ravenna
AND . . . . . . . triangles, trapezoids, polygons, parallelograms and quadrilaterals, as shown in "Soliel" (above right and below) from New Ravenna's Aurora Collection.  But for those of us -- the writer, included -- whose geometry jargon has evolved little beyond simple circles and squares, let's begin with "the basics."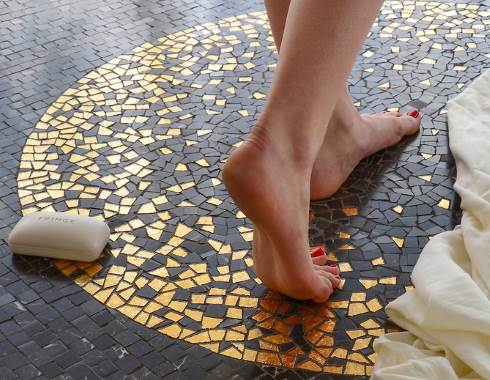 Striking Squares within Squares
A glass tile mosaic from Bisazza's "Opus Romano" series makes it hip to be square.  Shown here in Wenge Nero, the two tile wide pattern alternates between light and dark to create a striking contrast in color.

Pictured below is an "Opus Romano" bathroom floor tile installation at the Hotel de Russie in Rome.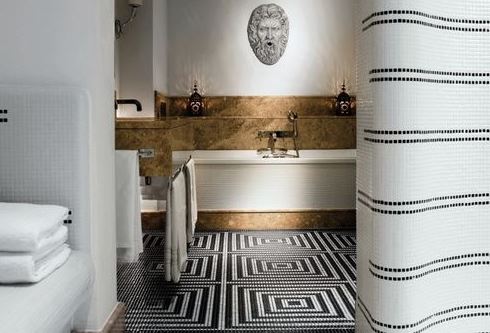 Rhythmic Rectangles

Rhythmic rows of narrow rectangles march across the floor and up the wall to flank
a pair of bathroom vanity mirrors.  Shown here in orange and white, the porcelain stoneware tiles are part of the "Space Identity" series from Tagina's "Monina Collection."

Black & White Keys . . .
Pictured at right is a striking glass tile mosaic from Bisazza's "Fregi Opus Romano" collection.    The Chios Border -- white on a black background -- is a modern interpretation of the classic Greek key design.

and Basketweaves
Another white on black design features a basketweave floor tile pattern from Versace.  Note the tiny Greek key border.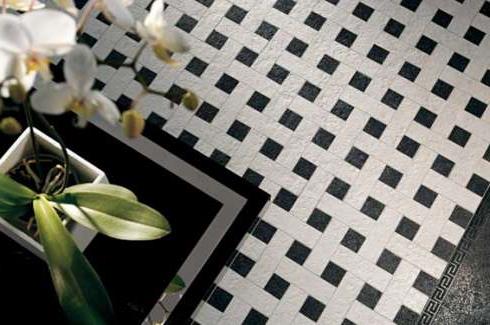 A Stunning Starburst . . . . . . . and Colorful Stripes

One can almost feel the explosive energy of the starburst pattern below, left.  From Ann Sacks,  the stone mosaic is shown here in athens silver cream and athens gray.  (Photo Credits: Tom McWilliam Photography and Davison Image Lab)
A colorful cavalcade of stripes infuses a kitchen flooring installation from Sicis (below, right).  Bands of red and blue . . . and yellow, too.   Click here to see more kitchen floor tile designs.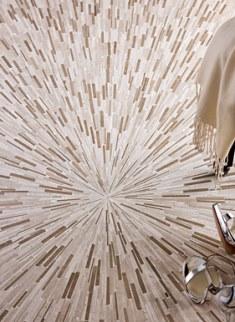 Distinctive Diamond Pattern
Petracer's "Carnevale Veneziano" floor tiles set the tone for a hallmark hallway.  The "confetti-infused" diamond pattern tiles are divided by contrasting ceramic linear inserts.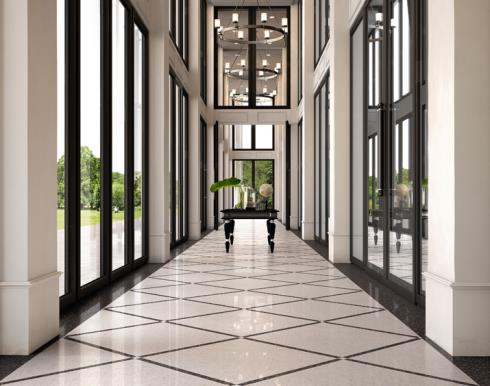 Handsome Herringbone Floor Tile Pattern
Ceramic flooring tiles from Cerdomus' "Unconventional/Epic" collection take on the look of a traditional wood herringbone floor pattern . . . albeit with a contemporary twist.




Elegant Overlay of Octagons
Refinement and elegance characterize an entry hall in East Hampton, New York.  The home,  designed by architect Robert A.M. Stern,  features a classic stone floor tile pattern known as carreaux d'octagones. Large white octagons interspersed with small black squares lend a timeless look.



Spellbinding Swirls of Stone

Polished marble and iridescent glass come together in a mosaic masterpiece by Sicis.  From the Italian firm's "Cosmati Collection," the sinuous design features a variety of geometric forms that radiate like jewels reflecting light.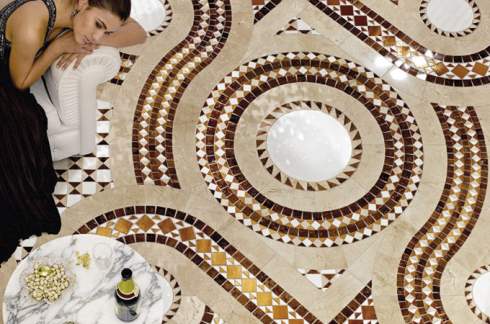 See More from the "Cosmati Collection" by Sicis

Please check back often or subscribe to our RSS feed, as we frequently add new floor tile patterns to our site.

YOU MAY ALSO LIKE:
Kitchen Flooring Installation
Ideas...Bold & Beautiful!

Floor Tile Design Ideas
to Lift Your Soles!

Tantalizing Tile Patterns -
A Symphony of Shapes & Styles!

Back to Floor Tile Design Ideas
Back to Tantalizing Tile Patterns
Back to Standout Tile Designs Home Page


Didn't find what you were looking for?
Use this search feature to find it.
LIKE THIS PAGE?

Copyright © 2014-2019 standout-tile-designs.com
All Rights Reserved.
STANDOUT TILE DESIGNS
Minneapolis, Minnesota USA