Kitchen Flooring Installation
Ideas . . . Bold & Beautiful!
Dramatic kitchen flooring installation ideas feature bold patterns and richly contrasting colors in the examples which follow.    The striking tile designs hail from across the globe and encompass a broad range of looks . . . classic to contemporary!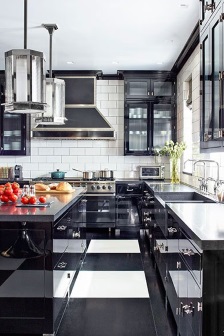 Right: Stunning black & white kitchen design by Steven Gambrel (Photo via Architectural Digest)
A new twist on traditional hex tile characterizes the vibrant kitchen floor below.  "Hexagon 8," pictured here in blue, is one of several exciting Moroccan-made modernist cement tile designs from Kismet Tile, based in Los Angeles.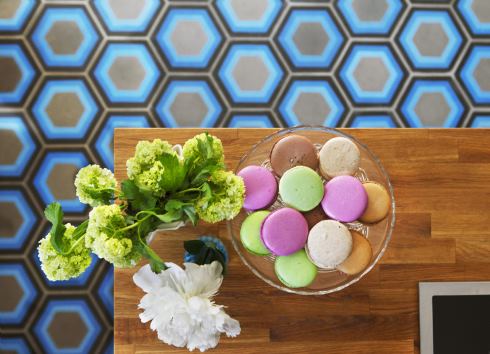 Tile Kitchen Flooring Installations
Hues of Peacock Blue . .

. . .

A kitchen floor design explodes with color in a makeover from Kitchen Designs by Ken Kelly.  The Long Island-based firm employed a rainbow of richly colored glass tiles to create a "quilted" rug effect.  Note the hand-painted peacock feather on the ceiling.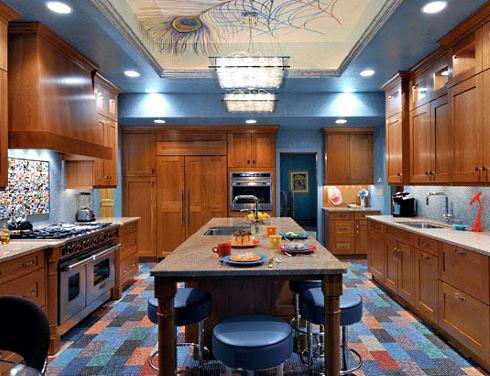 Shades of sapphire, turquoise and white make a powerful design statement in Milan, Italy.  The remodeled kitchen by Studio Natalia Bianchi features a ceramic tile floor with striking color contrasts and geometric patterning.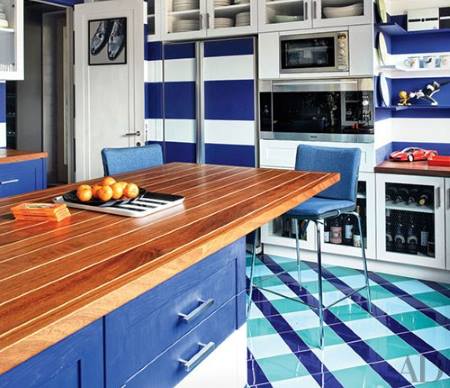 Photo via Architectural Digest


. . . and Coral Red, Too
An intricate multicolored island border floats on a sea of coral red squares in the kitchen flooring installation below.  From Granada Tile's Echo Collection, the coral
field tiles and "Monarch" pattern border tiles are handmade with cement.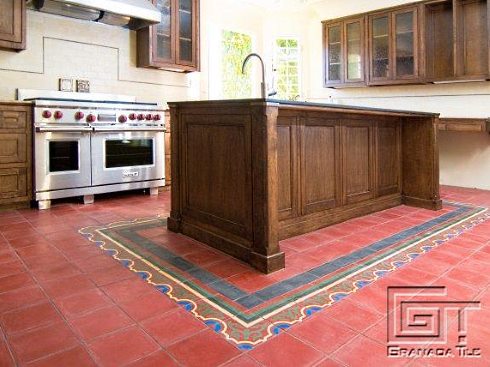 Photo Credit: Brian Sanderson


Black & White Sensations
The ageless appeal of black and white floor tiles is indisputable, dating back many centuries.  In the example below, a marble checkerboard pattern provides an elegant footing for cabinetry by French culinary manufacturer, La Cornue.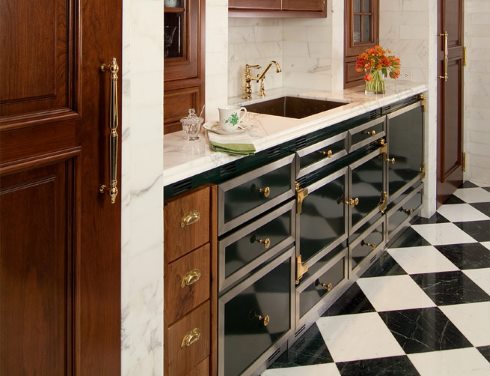 Image above via La Cornue
More Checkerboard Floor Tile Design Ideas

A condo in Portland, Oregon's historic Alhambra Building (ca 1926) undergoes a startling transformation by Jessica Helgerson Interior Design.  The original narrow galley kitchen was expanded by removing a wall adjacent to the family room and opening the wall to the dining room.
To grace the floor, "Badajoz-912" cement tiles (8x8 inches) were selected from Granada's Echo Collection, an assemblage of more than 140 distinctive patterns for bath and kitchen floor tile designs.   A pulsating pattern of black and white,  the Moroccan-inspired "Badajoz" floor tiles set the overall tone for the room's decor.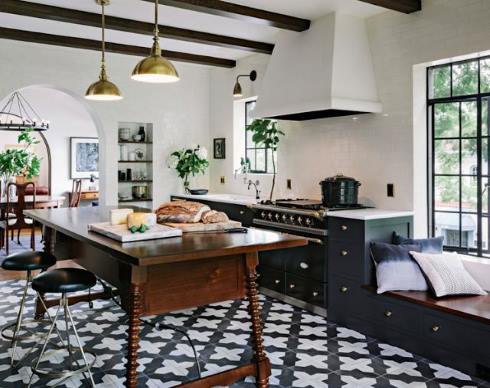 View across kitchen island toward dining room
(Photo Credit: Lincoln Barbour)

According to Jessica Helgerson, "The bold decision in this space was to embrace high contrast, both in the dark cabinets playing against the pale ceiling and in the highly patterned floor tiles."  A well planned and executed design, indeed!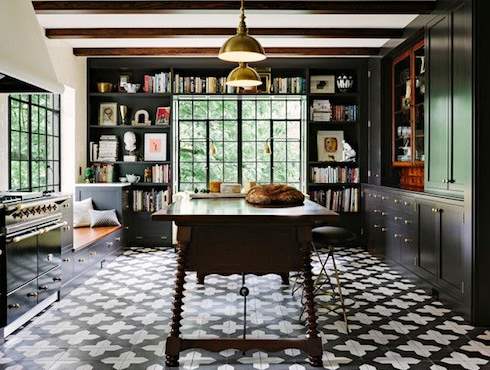 View toward opposite end of kitchen
(Photo Credit: Lincoln Barbour)
Please check back often or subscribe to our RSS feed, as we frequently add new kitchen flooring installation ideas to our site.

YOU MAY ALSO LIKE:
Floor Tile Patterns to
Knock Your Socks Off!

Back to Floor Tile Design Ideas
Back to Standout Tile Designs Home Page


Didn't find what you were looking for?
Use this search feature to find it.
LIKE THIS PAGE?

Copyright © 2014-2019 standout-tile-designs.com
All Rights Reserved.
STANDOUT TILE DESIGNS
Minneapolis, Minnesota USA